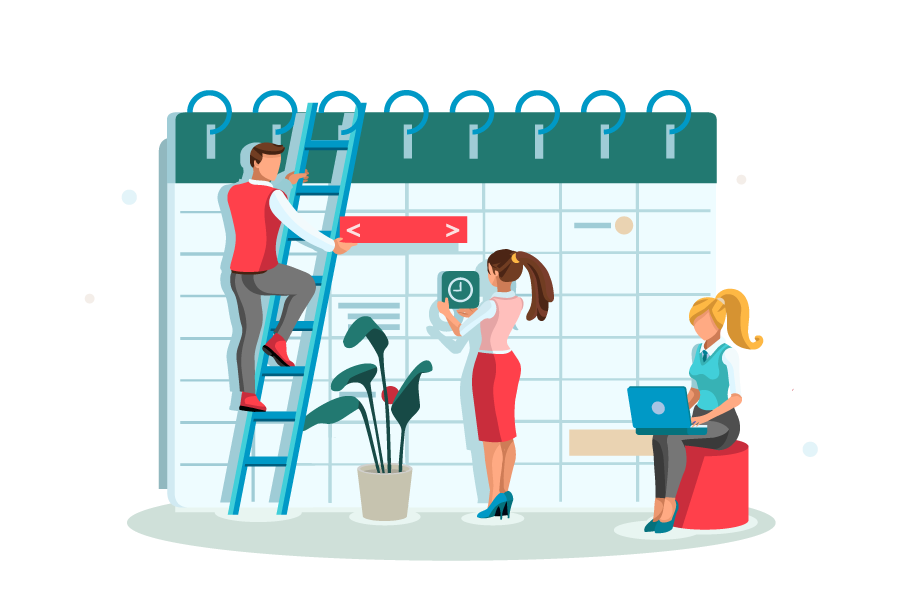 Schedule appointments with confidence
Never double book yourself again. Whether you are a solo-clinician or a large group practice, therapyzen manages your appointments with ease.
A calendar for any size practice
Whether you work alone or with a large team, we make appointment scheduling easy and uncluttered. Our calendar comes in a variety of flavors to suit all your scheduling needs.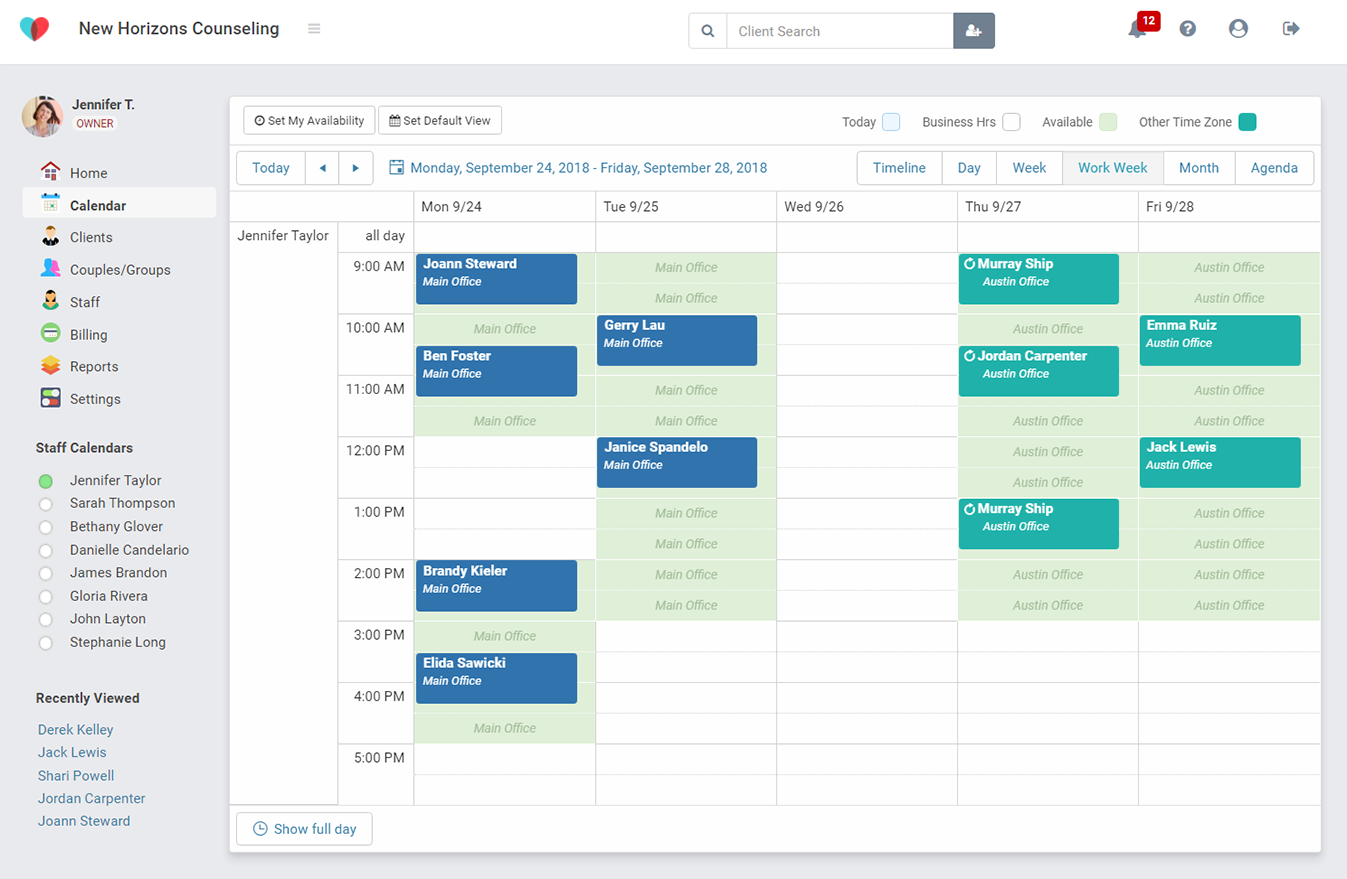 Appointments are so much more than just a date and time
Every transaction for a practice begins with an appointment. Therapyzen incorporates all of those important details into every appointment while keeping it simple.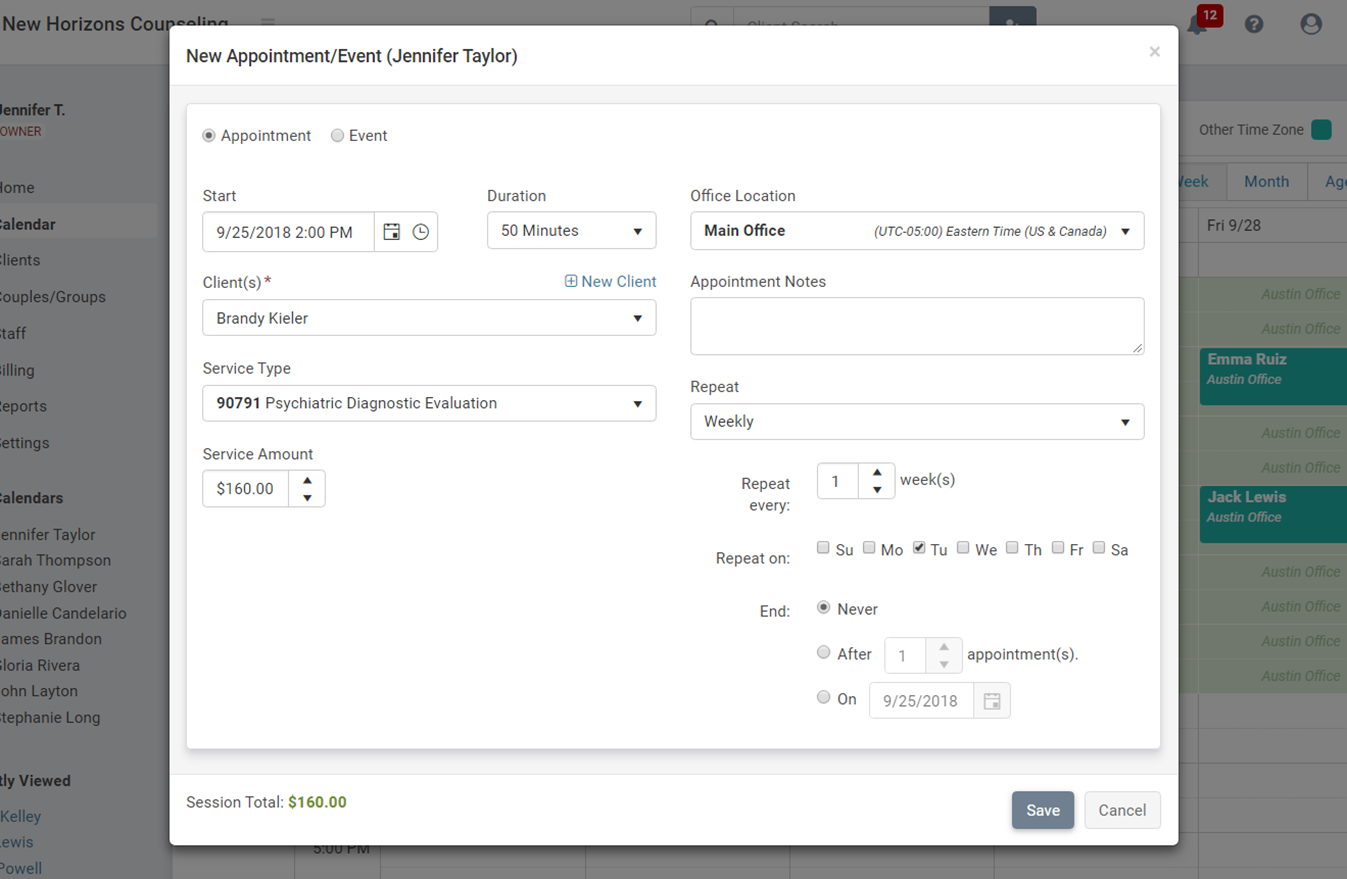 Appointment Scheduling Highlights
Single or recurring appointment options
Single clinician and group practice scheduling
Schedule groups or couples with just a click
Schedule for multiple office locations
Color coding appointments
Add appointment notes for your therapists to review
Include services to be performed, rate, & duration
Schedule general events on the calendar
Integration with Google, Apple, and Outlook calendars
Default appointment settings
Easily set your availability for appointment scheduling
Every therapist has a demanding schedule and no two schedules are the same. Using therapyzen, each of your clinicians can set their own personal availability for appointment scheduling. This provides strict rules for schedulers setting appointments and clients sending requests from the client portal.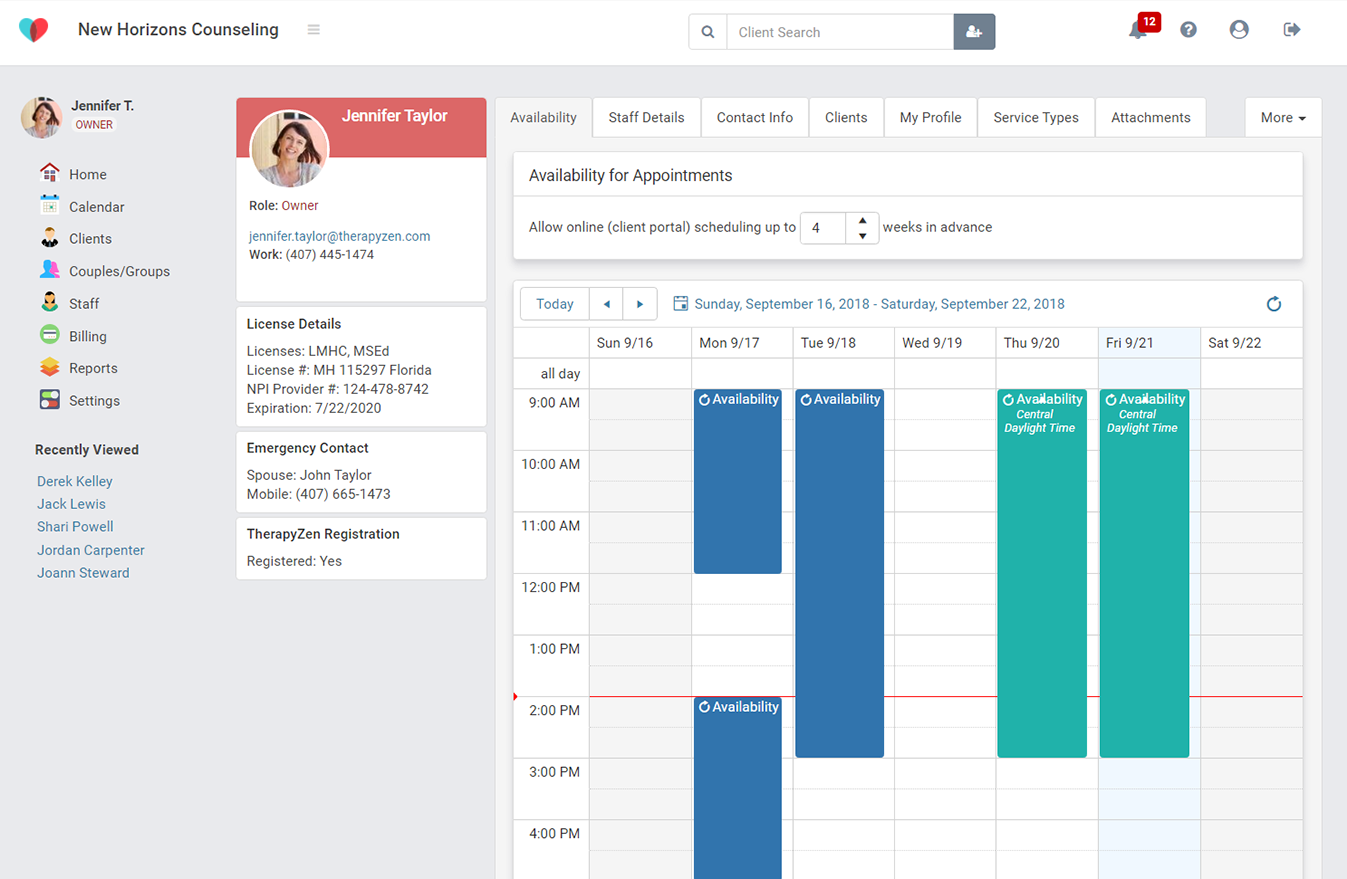 More cool scheduling features that you have been looking for
Sync your appointments with Google Calendar™, Apple iCalendar™, & Microsoft Outlook™!
We're big fans of integrating with some of your favorite apps. We want to make life more convenient for you which means letting you continue to use your favorite calendar app to track all of your appointments.
Therapyzen provides a simple process for syncing all your appointments to Google™, Apple™, and Microsoft™ so you don't have to skip a beat with your appointment reminders.
SMS & email appointment reminders!
Using therapyzen will help you reduce appointment 'No-Show's with free automated SMS & Email reminders for your clients. Simply turn them on or off, it's that simple. *International carrier rates may apply.
Online appointment scheduling with our free client portal
Let your clients browse your schedule to book appointments online. Automatically accept requests or choose to approve/deny them. It's your choice.
Have multiple locations in different timezones? No sweat, we've got you covered.
Are you a traveling counselor? Do you have multiple locations in different timezones? If so, you're in luck. Therapyzen will incorporate all of those factors into your appointment scheduling. Life is good!
Still have questions?
Give us a call to find out more at (833) 936-4968.
Schedule a demo with one of our fantastic trainers.
Send us an email and we'll respond as fast as humanly possible.
Sign up for a free 14-day trial. It takes less than 2 minutes and no credit card required.