Appointment Scheduling in TherapyZen
Clutter-free appointment scheduling for therapists, small teams, or large group practices.
Appointment Scheduling For Clinicians
The work week calendar is the preferred view for all therapists. Scheduled appointments and events are simple to create, easy to read, and a breeze to edit.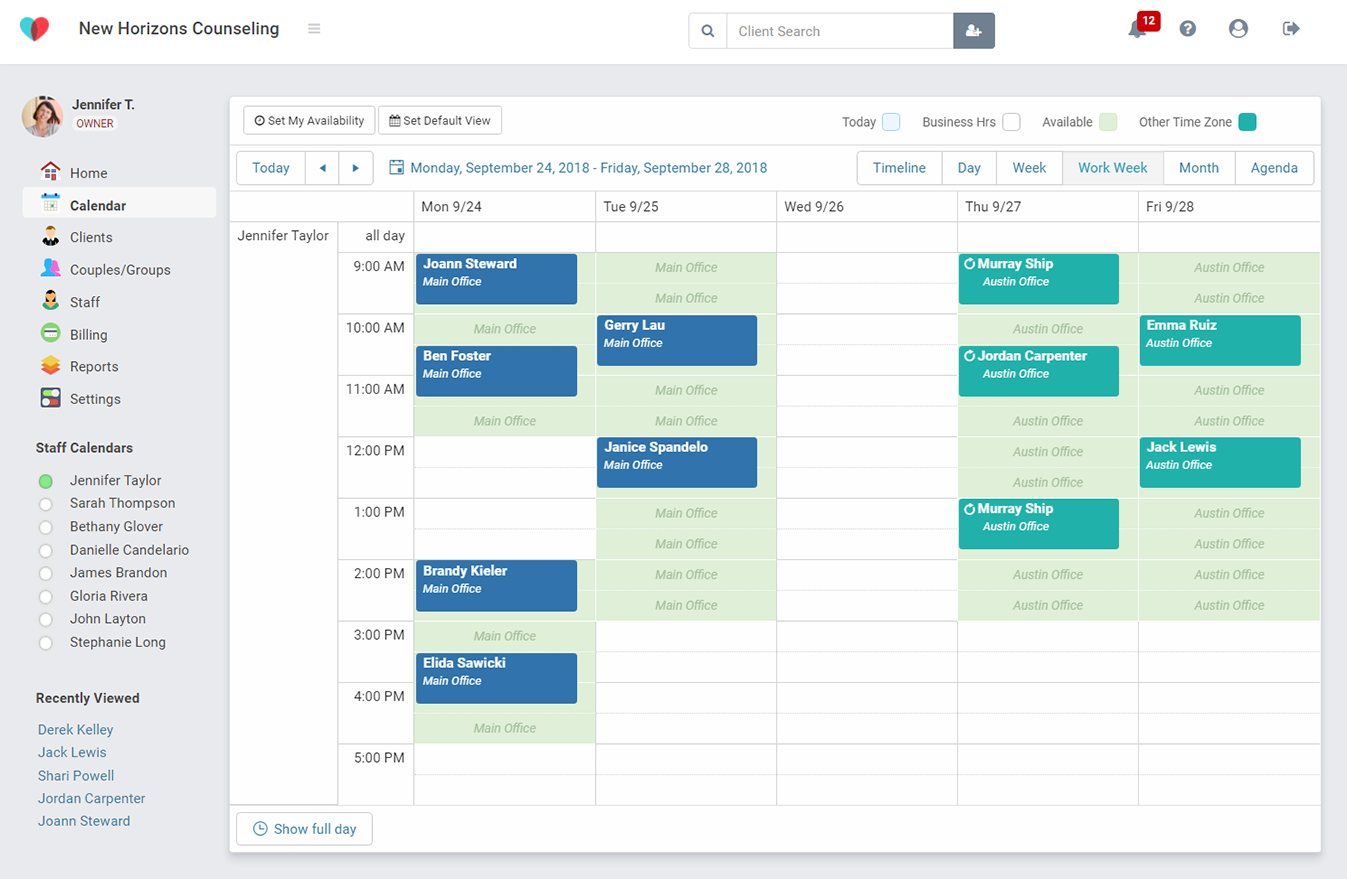 Appointment Scheduling for Group Practices
The timeline calendar for group practices is perfect for managing the schedules of your entire staff. Clinicians and non-clinicians are all included in your calendar, however therapy appointments can only be created for therapists.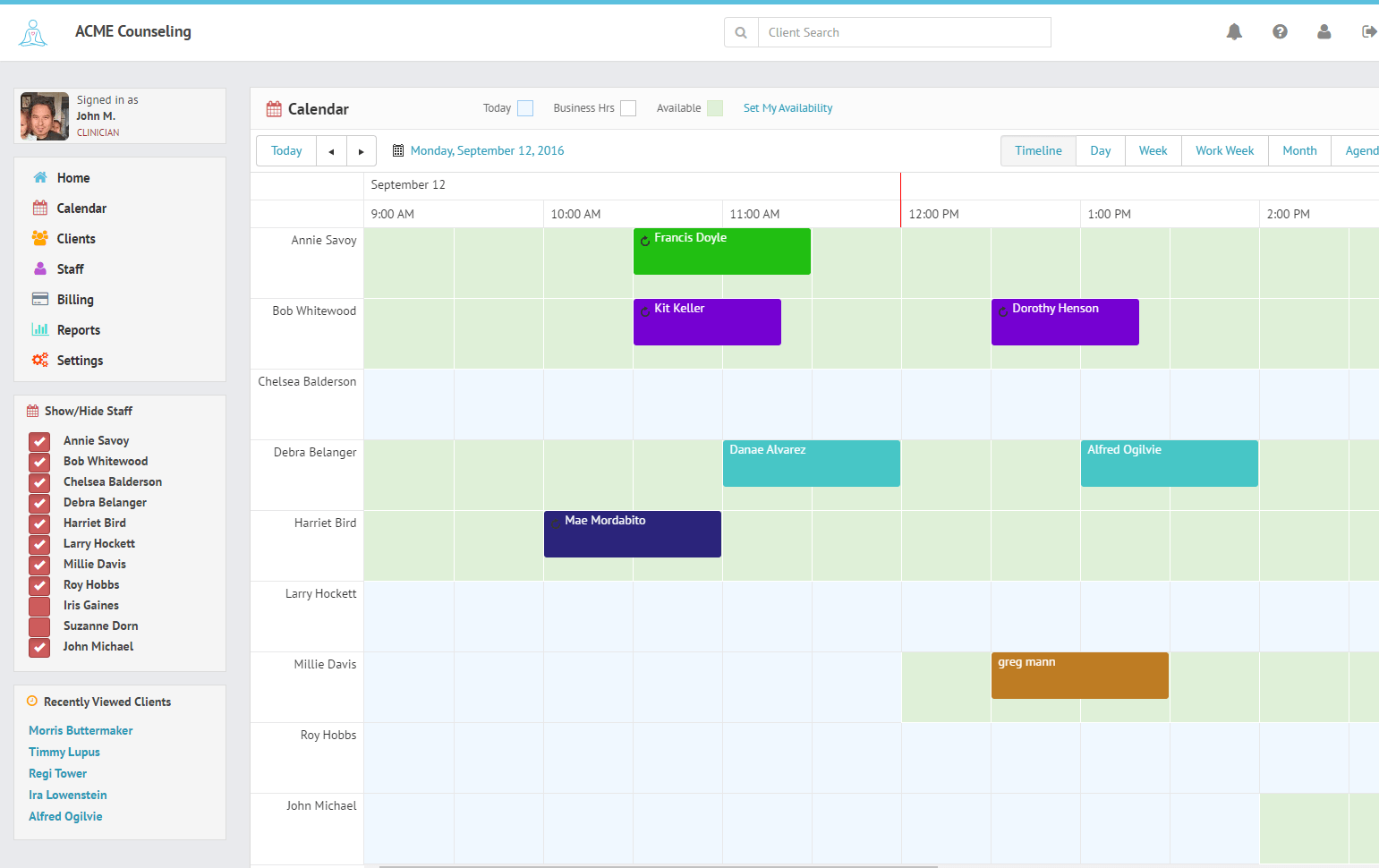 Appointments are so much more than just a date and time
Every transaction for a practice begins with an appointment. TherapyZen incorporates all of those important details into every appointment while keeping it simple.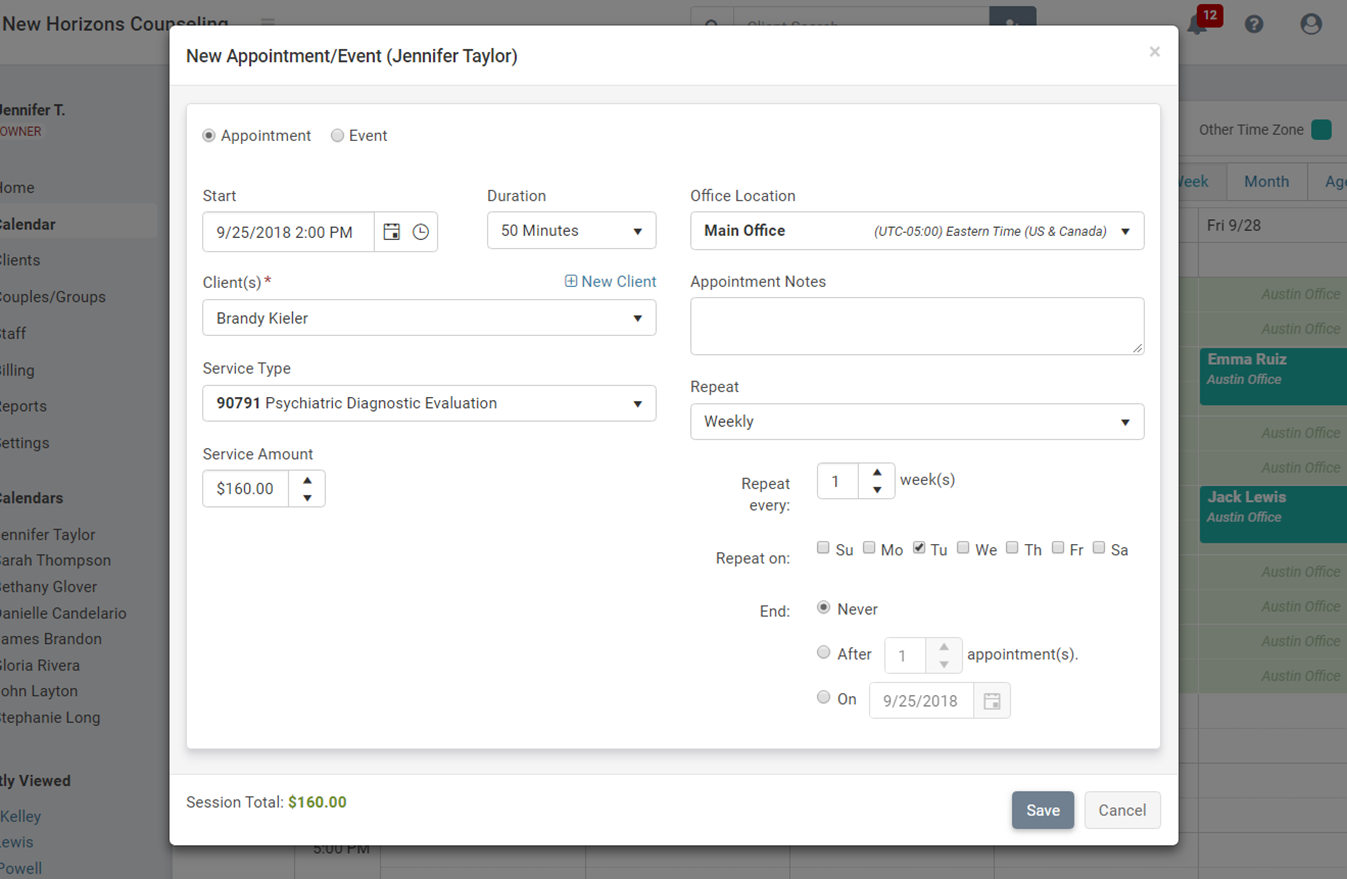 Appointment Scheduling Highlights
Plenty of recurring appointment options
Therapists can only book appointments with 'assigned' clients
Schedule multiple clients for group or couples sessions
Add appointment notes for your therapists to review
Include services to be performed, rate, & duration
Also schedule non-appointment events on the calendar
Set your availability for appointment scheduling
Every therapist has a demanding schedule and no two schedules are the same. With TherapyZen, each of your clinicians can set their own personal availability for appointment scheduling. This provides strict rules for schedulers setting appointments and clients sending requests from the client portal.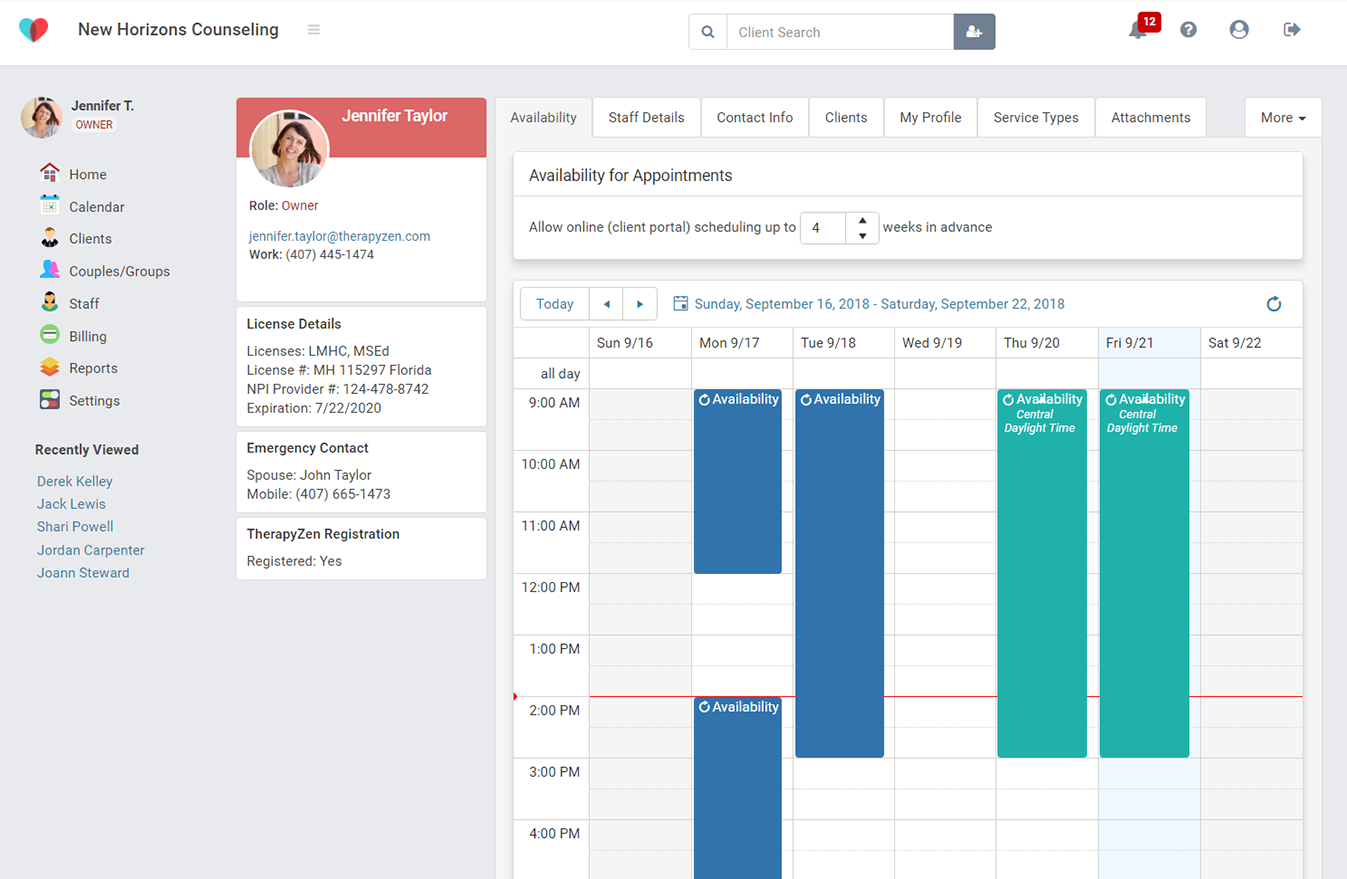 Sync your appointments with Google Calendar™, Apple iCalendar™, & Microsoft Outlook™!
TherapyZen is a big fan of integrating with some of your favorite apps. We want to make life more convenient for you which means letting you continue to use your favorite calendar app to track all of your appointments.
TherapyZen provides a simple process for syncing all your appointments to Google™, Apple™, and Microsoft™ so you don't have to skip a beat with your appointment reminders.
Free SMS & Email Appointment Reminders!
TherapyZen will help you reduce appointment 'No-Show's with free automated SMS & Email reminders for your clients. Simply turn them on or off, it's that simple.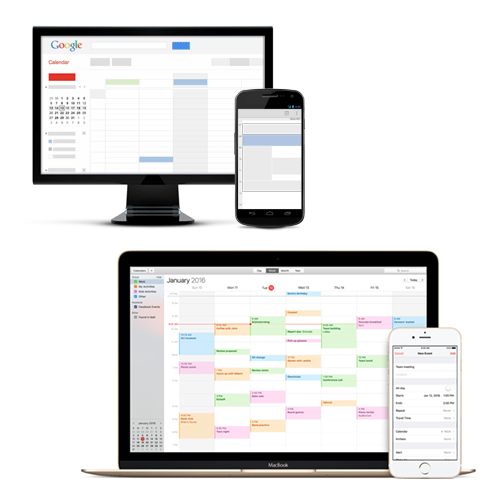 A variety of calendar modes to suit your tastes
Different strokes for different folks! TherapyZen provides a handful of different calendar modes for you to choose from. (the Agenda mode seen here)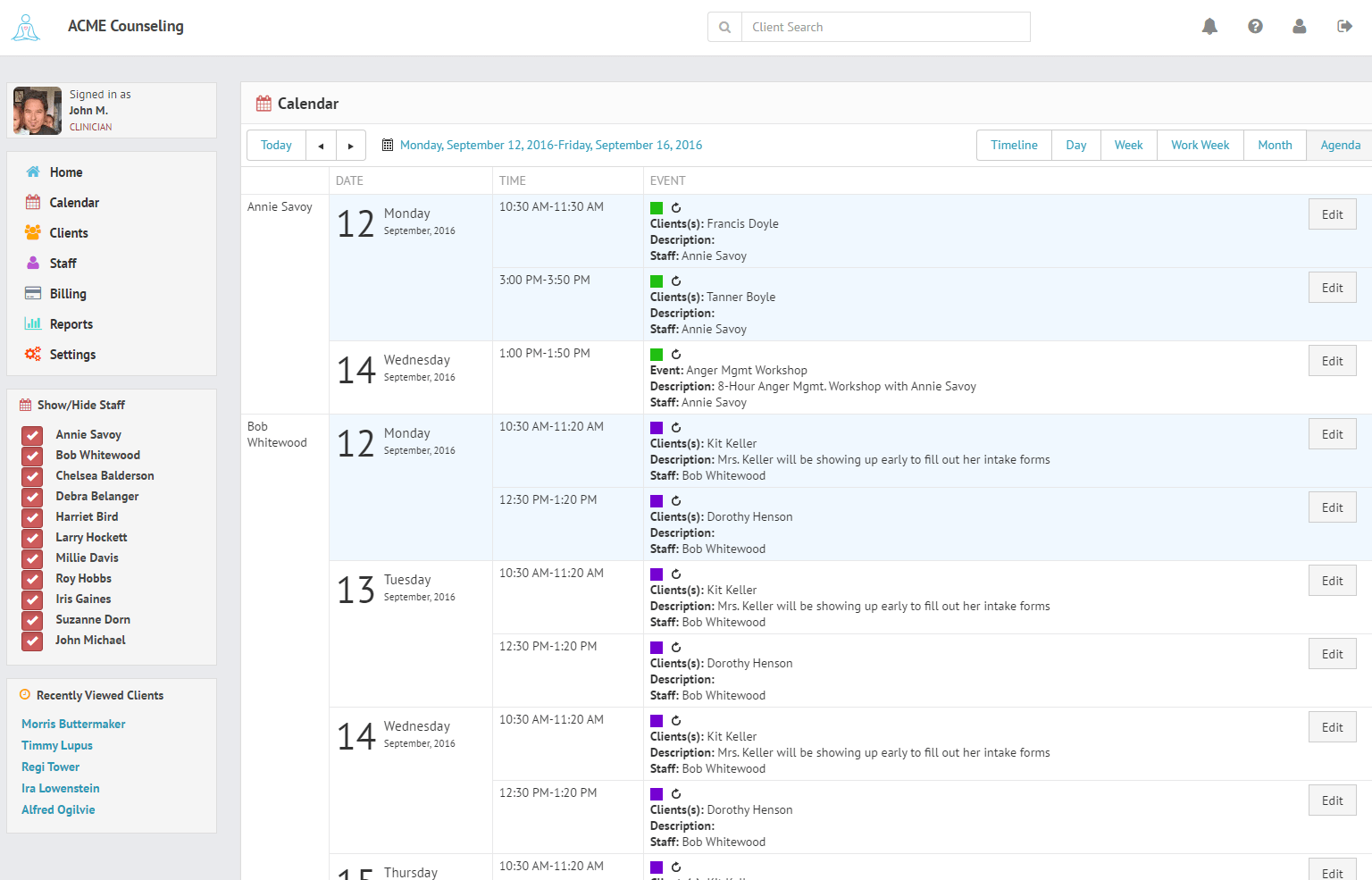 Check in your clients upon arrival
The TherapyZen dashboard provides a fantastic list of your daily appointments. Set the status of each appointment as your day progresses. Choose from the list of available appointment statuses; Kept, Canceled, Late Cancel, & No Show.